A Family Owned Shutter Company In Los Angeles
Shutters And More has been serving the community since 1966. All our products are proudly made in the USA. We sell directly to homeowners, builders, architects, interior designers and home remodelers.
We are shutter experts. Custom shutters are a beautiful, cost effective way to enhance the value of your home. We will help you select a style, finish and explain your options for decorative and functional enhancements.
We are manufacturers of furniture grade quality interior and exterior shutters. We will come to your home and measure, design and install our interior shutters that will exceed your expectations of quality, service and durability. Every shutter is custom made to fit your windows exactly. There are no standard panels, stiles or rails. Everything is custom for your window.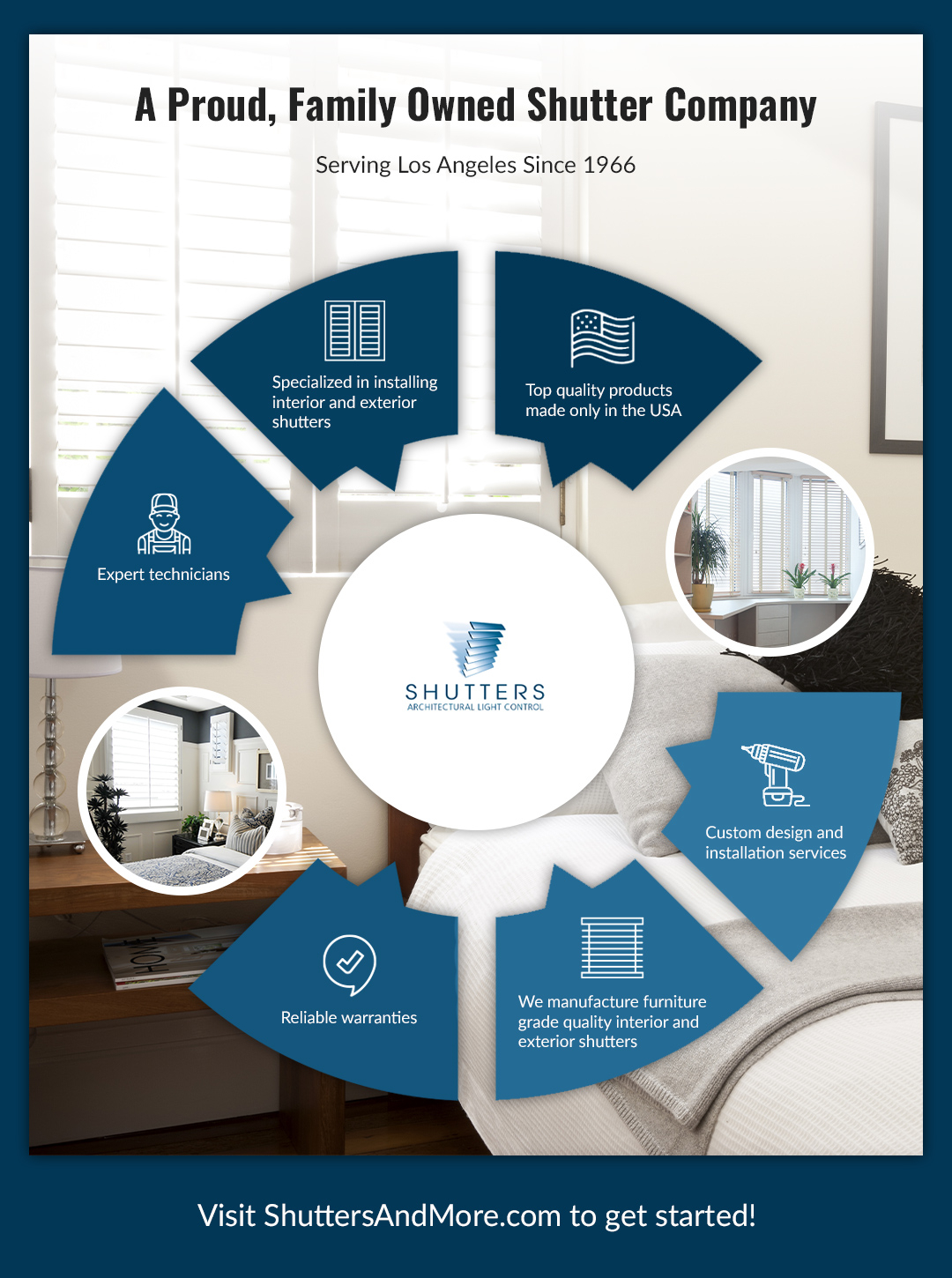 Shutters and More is a family owned business located in Chatsworth, California. Founded in 1966 by the Roberts family and operated by them until 1999 when it was purchased by Barry Sable, a general contractor. "I have been in the construction business all my life. My grandfather was a contractor, my father was a contractor, and I have been a licensed contractor in California since 1979. I use the very best materials, and the best skilled craftsmen to manufacture and install. We use no sub-contractors only in-house employees. We do everything the best way we can. If I could make anything better, I would, as I know that customers compare and buy on merit and value." We personally go out and measures every job for the perfect fit and design ." Measure twice and cut once has been drummed into me since I was a boy". Barry's son Claude is now the President and handles the showroom facility, scheduling as well as estimates. Our mission is to continuously strive to provide a product and service that conveys the very best in customer service and superior quality to our customers. Nothing short of total customer satisfaction is how we have won and kept our customers.
California State Contractor License Board number #594550.
*Our business is handicap accessible.