Window Covering Resources: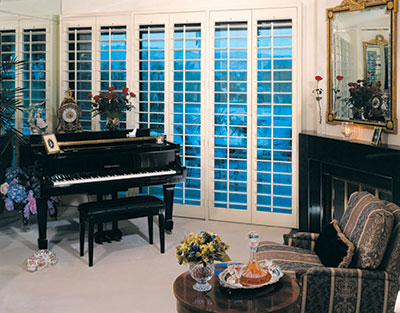 The History of Shutters
The origins of these classic window coverings date back to the nineteenth century when they were actually used as window coverings in the harsh environment of tropical plantations. In the mid 1970's, they began showing up in residential homes, gaining in popularity over the past two decades to become the most sought after of all window coverings. They have proved to be timeless decor not only because of their grace and elegance but also their extreme functionality and easy maintenance. They provide great style and appealing effects as the sun's ray's shine through.
Shutters will enhance any décor, lending themselves to both traditional and contemporary motifs. Opened, they create a spacious quality, while enhancing even the most breathtaking views. Closed, they give warmth, privacy, ventilation and protection from the elements, while protecting furniture, rugs and hardwood floors from sun damage.
Wood shutters are an investment, and should be thought of as fine furniture.They are the only window coverings that are appraised into the value of your home. Their rich natural appearance makes them a perfect choice to beautify and add value to your home.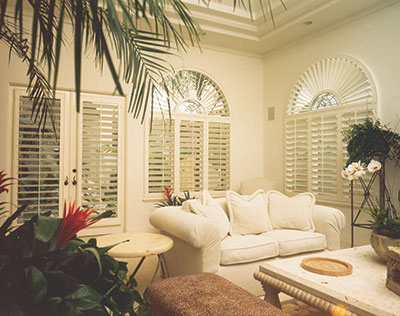 Traditional & Plantation Shutters
A traditional shutter is the old style, 1 1/4 inch louvered shutter in a 3/4 thick frame. It was widely used in the North Eastern region of the country where
windows were small. Sometimes there were "café height" shutters in kitchen windows. Other times they were full height. Windows in the Northeast were typically small in area because glass was not very insulating. The Traditional Shutters looked and operated well on small windows.
Plantation shutters first got their name from the old plantations in the South. The louvers used in the South were "wider" than traditional shutters and the shutters were put on the outside of the house. These were movable louvered shutters used both for decoration and protection from the elements when closed over the windows.
During the population boom in California in the 1950's, homes were built with large glass windows because thermal efficiency was not an issue. Homeowners wanted a "view" through their windows. Shutter manufacturers introduced wide louvered shutters to be installed inside the house as a window covering. These were in contrast to "traditional" shutters and the wide louvers were called "California Shutters" or "Plantation Shutters". These Plantation Shutters allowed people to open the louvers for the "View" or close the louvers at night for privacy. It soon became obvious that a plantation shutter, when the louvers were closed, kept the heat from the sun out during the day and the use of plantation shutters grew throughout the Sun Belt to Arizona, Texas and Florida where the population was growing wild. The name "Plantation Shutter" stuck and today it generally means a wide louvered shutter used as an interior window covering.