Transform Ordinary Windows Into Designer Highlights
With Interior Shutters from Shutters and More, Inc.
Shutters and More in Los Angeles has been manufacturing and installing the world's finest, hand-crafted wood interior window shutters since 1966. All of our custom Basswood plantation window shutters are proudly designed and manufactured in the USA, and we will come to your house to provide a free in-home estimate and get measurements to fit them perfectly to your interior design and window. Plantation shutters can enhance the value and privacy of your home, and we guarantee a price match with competitors. Learn more about buying shutters, or contact us today to get a free quote or to check out our showroom.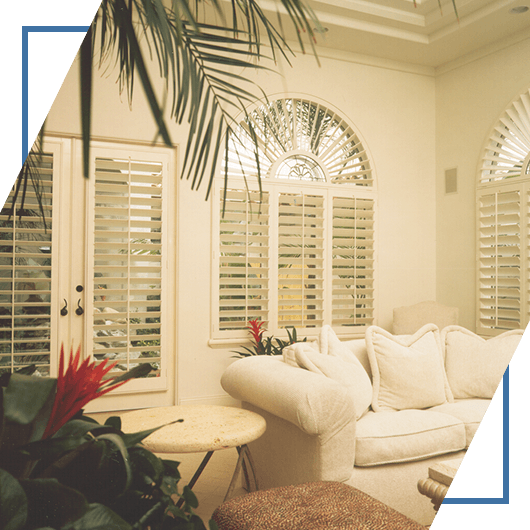 Why Choose Shutters and More in Los Angeles?
Local shutter store that is family owned and operated
Superior craftsmanship designing and installing shutters since 1966
Made-to-order shutter manufacturer with a lifetime warranty
Price match guarantee with all other shutter manufacturers and installers
High-quality, 100% solid Basswood plantation shutters
Free in-home estimates for the greater Los Angeles area
Custom Wood and Plantation Interior Window Shutters
Whether in the home or in the office, interior shutters from Shutters and More can transform your ordinary windows into designer highlights. As the only window coverings that are appraised in your home value, wood shutters are an investment. We specialize in all types of custom interior shutters design, and we encourage you to visit our showroom, as well as learn more about buying custom shutters with your unique shutter specifications in mind. One of our specialties is the plantation shutter, which got its name from the wood shutters designed for Southern homes with large windows. Plantation shutters, also at times called "California shutters," are aesthetically pleasing, while also providing great open views as well as closed, warm privacy. Below are some of the main reasons for installing plantation shutters.
Light Control and Views
Adjust the louvers to your preferred angle and create just the right mood. Whether you are looking for complete privacy with little-to-no light, or opening up the breathtaking views, interior shutters give you the best of both worlds by the adjusting light control options.
Elegant Clean Style
The classic style of the center tilt bar for adjusting the louvers is the traditional Plantation look. But we also offer the "louver mover" which offers a clean appearance when the shutter is closed, and an unobstructed view of the outdoors when fully open. This style is created by installing the louver mover on the back (window side) so it is hidden from view.
Endless Design and Color Options
Shutters are versatile and aesthetically pleasing enough for more than just windows, but also closets, louver doors and room dividers. They add architectural appeal to any room to enhance your décor in formal living rooms, casual playrooms, busy kitchens or elegant bedrooms. Any color, paint or stains are available with no additional fee for color matching. They come in a smooth or textured finish depending on your preference and the look you have been dreaming about. Learn more about wood shutter design specifications here.
Ventilation Control and Privacy
Want to keep your privacy while also letting some fresh air inside? Plantation shutters allow fresh air to circulate when opening the window while also providing privacy by adjusting the louvers so that you still maintain an intimate setting.
Energy Efficiency
Start saving now and reduce your heating and cooling bills by installing energy efficient shutters from Shutters and More. They eliminate solar heat during the summer months and provide excellent insulation during the winter.
Low Maintenance and Easy to Clean
Stained wood shutters are easy to maintain and clean, especially when you get Shutter and More to provide expert finishing and custom stains. Just dust or wipe with a damp cloth and your shutters will look as new as they have ever been.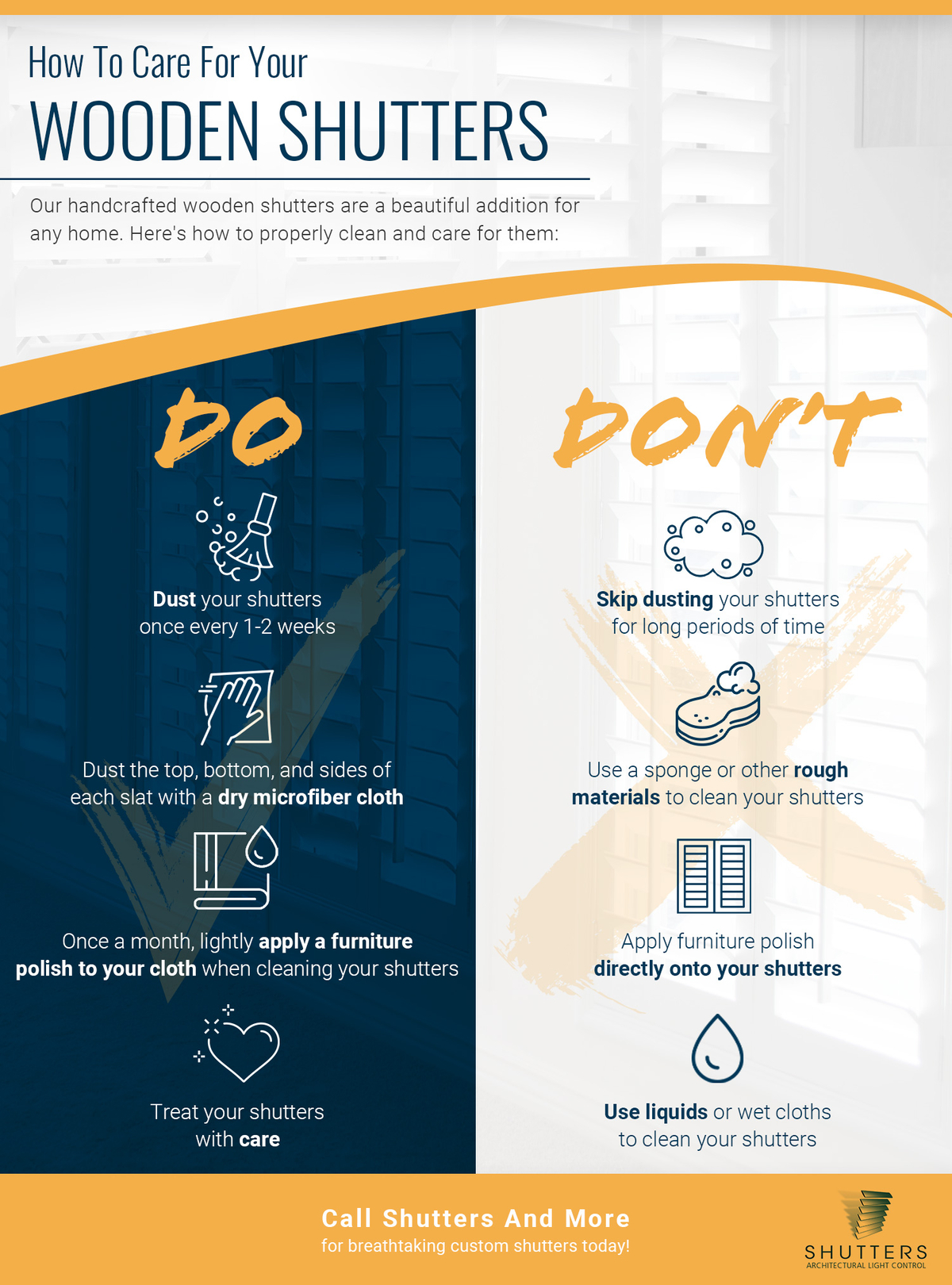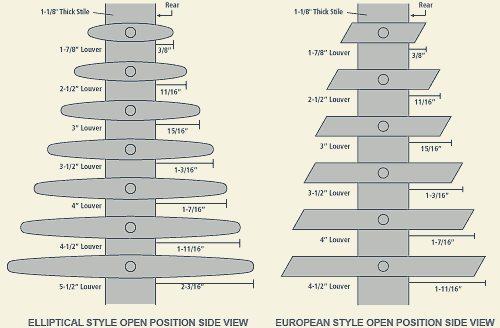 Louver Sizes for Window Shutters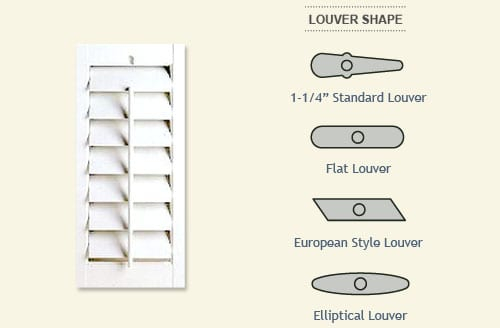 Window Shutter Specifications
Wood and Plantation Window Shutters Gallery
Check out our work below in the Shutters and More gallery, or visit our showroom in person.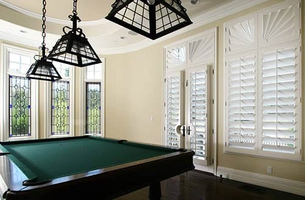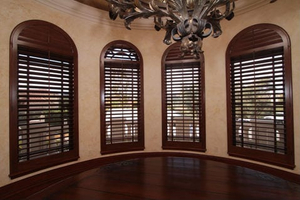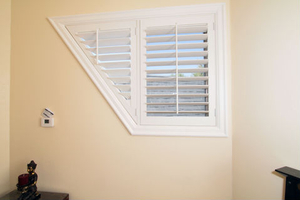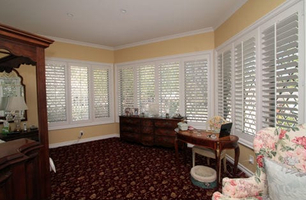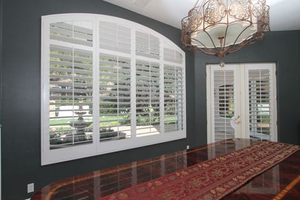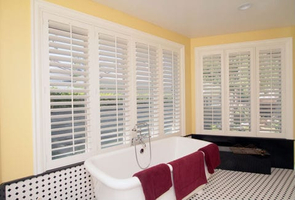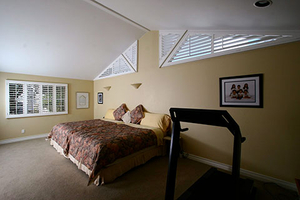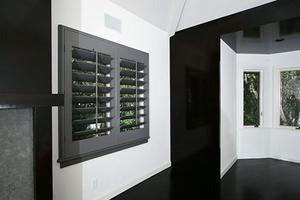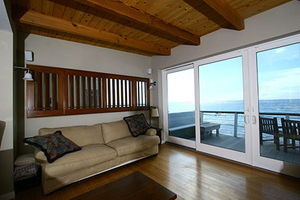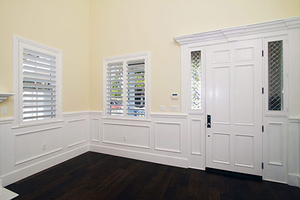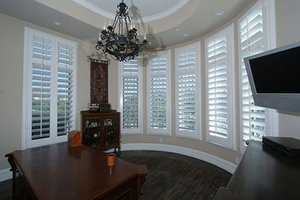 Request a quote for interior wood shutters in Los Angeles by signing up today for a free in-home or over-the-phone consultation