COVID-19 ANNOUNCEMENT
Please read regarding an update to our business operations at this time.
Welcome Elegance And Privacy Into Your Home
Your house is your own private space. Make it feel like a home with handcrafted wooden shutters from Shutters And More! For more than 60 years, we've been the go-to manufacturer of custom shutters for people all throughout Los Angeles! Our shutters add value and beauty to your home and enhance your privacy, making it easy to control the amount of natural light that gets inside and keep prying eyes out. Call Shutters And More to get a quote today, and continue reading to learn about our clients' experience with us firsthand!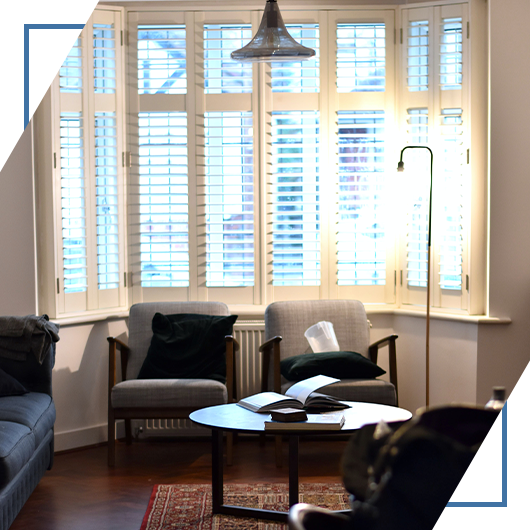 Why Choose Wooden Shutters From Shutters And More In Los Angeles?
We offer gorgeous interior and exterior wooden shutters in a variety of styles
Get shutters custom-crafted to meet the dimensions of your windows
Get an up-close look at the shutters and beveled glass products we offer in our Los Angeles showroom
All of our shutters are made with high-quality wood and are backed by a lifetime warranty
We've served the Los Angeles community since the 1960s
We've crafted shutters for some of the most well-known people in Hollywood
Gina's Experience With Shutters And More
Definitely Recommend!
I had Shutters and More do exterior shutters and we loved them! They made the house look dressed up. When we wanted to do interior shutters we got three bids and Shutters and More had the best price and was the only company that manufactured their own shutters. I was blown away by Barry when he came to the house to do a walk-through. Not only was he polite, but he gave great design and color suggestions that were just perfect. He has a good design eye and attention to detail. The installer was tidy and quiet, and it amazed me that he could do it all himself. They followed up to make sure I was happy a week or two later. I would definitely recommend Shutters and More to my friends.
Anita Berkey
It Doesn't Get Any Better Than Shutters & More
The company did 43 windows and doors for my 3700 square foot home. Being a sophisticated homeowner I got three bids from other shutter companies, and Shutters and More was very competitive. Had I known the kind of work they do I wouldn't have bothered getting the other bids. Barry has a lacquer permit grandfathered in from when he bought the company. All the other companies have to use enamel paint which yellows in the sun. Lacquer looks like glass on shutters and their millwork is absolutely gorgeous. Their shop foreman is a magician with wood, their painter is a Picasso with a paint can and Barry is a man of his word. It doesn't get any better than Shutters and More.
Dr. T
Excellent!
Shutters and More did shutters for my town home. They were very professional and knowledgeable. They came and measured my windows and then I visited their showroom and we collaborated on what style and slat width would look best and I went with their recommendation. I was comfortable with their price and they came in right on target. I needed a pole to reach the higher shutters and they made me one that matched the custom color of my shutters. They were excellent!
Debbie Guthrie
Superb Job!
I am a very conscientious consumer, and I interviewed a lot of shutter companies before I went with Shutters and More. They made plantation shutters for my home. The shutters needed to be installed into brick, so I needed a contractor with a highly experienced crew. They did a superb job. I would absolutely use Shutters and More again.
Brad K.
Professional, Knowledgeable & Meticulous
Shutters and More is really a cut above: very professional, knowledgeable, and meticulous. I had them do plantation shutters in two homes. The first had a very rustic, sandblasted look. The next set I wanted to have a sleek, satin finish. They were all beautiful. They took my design and made them exactly the way I wanted, but they also helped me figure out how they would work best in terms of which way they opened. Their customer service is exceptional—Barry is sweet and kind, they listen and don't argue, and they treat you like you're special. Shutters and More really goes the distance. This is the kind of company that everyone should know about.
Peggysue Ogne
Very Easy To Work With
I wanted to replace my closet doors and shutters and I was not comfortable with the places I had visited. One day in Chatsworth, I passed Shutters and More and decided to go in. They had a beautiful showroom. Barry was warm and informative. I was a drop-in and he had no idea if I was going to actually buy anything, but he was very knowledgeable and explained the product. Very promptly, he came out to our house and measured and gave me a fair price. He noticed some of the floors were uneven, and he knew how to fix them. He discussed color and took a sample, and came back with three choices. He worked hard to find us a perfect match. Then, when the work was done, Barry called me to see if everything was okay. I would refer them. They were very easy to work with!
Ellen G.
This Is The BEST COMPANY!!
This is the BEST COMPANY!! They make a GREAT product… excellent prices and great quality product… if you are thinking of shutters for any of your windows and think you cannot afford them please call this company for a quote.. i thought the price would be twice what it was.. Wow..
Kathy A
Over The Moon — I Love Them!
Thanks again for your response about plantation shutters many months ago. I took you up on your suggestion and am so happy I did. The guys from Shutters and More *just* installed our shutters last week and I am over the moon. I LOVE THEM. They did an awesome job and price was better than almost anyone else. I love that it's made in CA too. They were great guys and I cannot get over how it changed the look of our whole living room. Thanks again for the rec!
Sarah
Great Service & Great People!
Just had our second set of shutters installed, beautiful! Great craftsmanship and perfect installation. We got estimates from Home Depot and other shutter companies, don't waste your time. The quality of their shutters is not near what we got from Shutters and More. The installation was perfect with attention to every detail. Great people too!
Steve Morse
Quality Was Excellent!
Claude and David were great to deal with. David was very informative on our interior shutter installation, he explained the installation carefully, measure accurately and delivered the shutters as promised. The installation was very quick and efficient. Their installer, who has been with them for 30 yrs, was excellent. Claude delivered the exterior shutters as promised. Quality was excellent. We would definitely return to Shutters and More for any future shutters. Great job Claude and David.
Ken Katich
More Than A Great Job!
I had a complicated installation for my shutters and Shutters and More did a great job. The area is triangular at the top so they had to construct the shutters so one side is about a foot taller. David installed them and the gap between the two sides is in perfect alignment and the finish is first class. Dave made me a long pole so I can work the shutters from below. A lot of contractors don't show up or call you if they are running late. David showed up when he said he would. And the price was reasonable. A friend of mine who does a lot of construction asked me what I had paid, and he told me I got a good price. We couldn't be more satisfied.
Roger H.
Beautiful Work & Excellent Service!
Shutters and More, Inc. installed shutters throughout my entire home over the past several years. The work is beautiful. Excellent customer service. If you're planning to get shutters, then this is the company to hire. Top of the line materials and a truly caring owner and staff. The value for the price was a key factor in my decision to only use this company. I shutters installed from this company that have now lasted years, without any problems whatsoever. I highly recommend Shutters and More. You will be so happy.
Donna
Exceptional Shopping Experience
The wife and I were looking for shutters for our home when we happened to pass by Shutters and More out in Canoga Park one afternoon, and thought we'd go in and check it out. Our shopping experience in there was exceptional! We had such great treatment. The store was set up so well. Barry took us around to the different items, showed us the different samples and took time to really explain how things work. We made arrangements for them to come out to the house, but then we had to postpone. They worked with us to reschedule at our convenience. The installer was on time, very professional and informative. He wasted no time going to work. We didn't have to do anything except enjoy our shutters. He took down the measurement of all the rooms. We had them do the living room, dining area and family room, and we are so satisfied with their work that when it comes time to do the rest of the house we're using Shutters and More again.
Sue & Izzy C.
Your Company Did An Excellent Job
I just wanted to let you know how happy we are with the shutters you installed in our new game room. We contacted you for the job because of the previous work you have done in our home and as usual, your company did an excellent job. Every thing was done as requested and on time. You were even able to make last minute changes for us when a contractor installed a mirror too close to the window and the shutter had to be cut down to fit. I was in such a panic about that. Your installer was very efficient, courteous, and clean by the way. Please let him know that it was appreciated.
After living with contractors for the past 6 months and having one problem after another, as is so common with home improvement projects, we can honestly say that your company was a delight to work with and not only will we use you to do any future work we may do, but we will definitely recommend you to others. As a matter of fact, this is how we learned of your company, our neighbor gave us your name after you did her shutters. There is no better compliment than a referral.
So thank you again for helping us make our new room what we had dreamed it could be and you can certainly add our name to your list of satisfied customers!
Judy Pinos
We Love Shutters & More!
We so loved the workmanship and quality of your shutters to the front of our home the newest addition of shutters to the back of our home is equally exquisite. Not only do they look terrific but they play a huge part in keeping the east & west temperatures way down.
We also support your family run business. We get an excellent product and excellent customer service. Your installers are dependable, neat and courteous.We give you a 10 out of 10 rating. We love Shutters & More!
Katie & John
They Have Transformed My Home Office
Dear Folks at Shutters and More: Not only are my new wide slat shutters beautiful and functional, they have transformed my home office, giving it a sleek new look. I can now enjoy full sun, or full privacy and anywhere in between. I can adjust the shutters, according to the time of day, to enable me to see my computer screen, yet still have some nice daylight. Wish I hadn't waited so long.
Michael Levy
Request a quote for interior wood shutters in Los Angeles by signing up today for a free in-home or over-the-phone consultation