Listen To The Leaders In Luxury
As one of the finest shutters manufacturers and installers in Los Angeles, we've had the privilege of beautifying the homes of some of Los Angeles' most famous residents since we opened up shop. Our beautiful plantation shutters have graced the windows of places like Michael Jackson's Neverland Ranch and Shaquille O'Neal's private residence, and they can beautify your home, too. When choosing new shutters or closet doors for your home, why settle for anything less than the best? The celebrities of Los Angeles have spoken — order luxury decor for your home today from Shutters And More!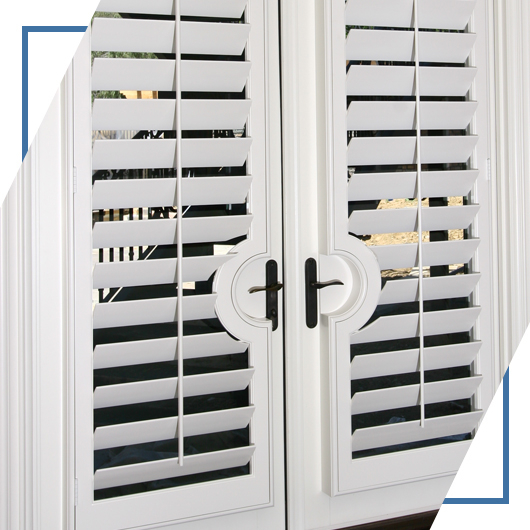 Why Choose Beveled Glass From Shutters And More In Los Angeles?
Our beveled glass comes in a variety of shapes and textures, giving you ultimate control over the design
This is an elegant glass option for those wanting to add privacy to their home while still letting natural light in
Our beveled glass can fit windows and panels of any size
We can custom-make beveled glass panels to match your existing bevel pattern
All of our products are backed by a lifetime warranty
The Benefits Of Choosing Shutters And More For Your Interior Decor
A Personalized, Designer Look For Your Home
There's a reason so many notable people have chosen us as their go-to provider of shutters and other interior decor pieces — the unmatched quality of our design! Our shutters turn ordinary windows into eye-catching design highlights, and everything we produce is custom-fitted to your windows and taste so you get the seamless style you're looking for.
If you're unsure of what you want, you also have the opportunity to view samples of our designs in our showroom!
Long-Lasting Durability
At Shutters And More, we're just as concerned with the durability of our shutters as we are with the elegance of their design. We've been honing our craft since we started doing business in Los Angeles in 1966, and we're so confident in the quality of our craftsmanship that we offer a lifetime warranty for all of our products.
Increase Your Home's Value
When you invest in shutters, closet doors, or other products from Shutters And More, you're investing in more than just the style of your house — you're adding assets to your home that will increase its resale value on the market, should you ever decide to move in the future.
Our shutters, closet doors, and other handiwork are gorgeous pieces that will beautify your home and stand the test of time. Some of the finest homes in Los Angeles are decorated with our shutters, and it's because of our reputation of quality craftsmanship and committed customer service. Join the Shutters And More family and request a quote for your home's windows today!
Entertainment Professionals We've Served
Johnny Knoxville
Easy-E
Janet Jackson
Smokey Robinson
Alex Van Halen
Otis Williams
Michael Jackson-Neverland Ranch
David Carradine
Charlie Sheen
Shaquile O'Neal
Cedric Cebellos
Lamond Murray
Tom Candiotti
Wayne Gretsky
James Brolin
Kevin Cronin
Cristy Brinkley
Wayne Knight
Raquel Welsh
Lyle Wagner
Vin Scully
Frank Sinatra
Heather Locklear
Michael Richards
Cory Feldman
Peggy Lee
Dr. Dre
Larry King
Walter Matthau
Michael Johnson
Steve Garvey
Hubie Brooks
Laffit Pincay

Dennis Haysbert
Kevin Nealon
Nikki Sixx
Sharon Stone
Blair Garner
Steve Harvey
Alan Alda
Sheldon Souray
Raffi Diblasio
Donald & Shelly Sterling
Jack & Beth Coleman
Bob Dylan
Betty White
Bobby Murphy (Snapchat)
Request a Project Quote Today!