THE BEST INTERIOR & EXTERIOR SHUTTERS
Serving Los Angeles with Window Shutters since 1966
The Perfect Custom Shutters in Los Angeles
There's no doubt that interior shutters and exterior shutters can make or break your home. They offer a touch of class and elegance that can make your room cozy and comforting by allowing the perfect amount of light in. Shutters and More is a family-owned business that judges our success by your satisfaction. Contact us today for your free interior shutter installation quote!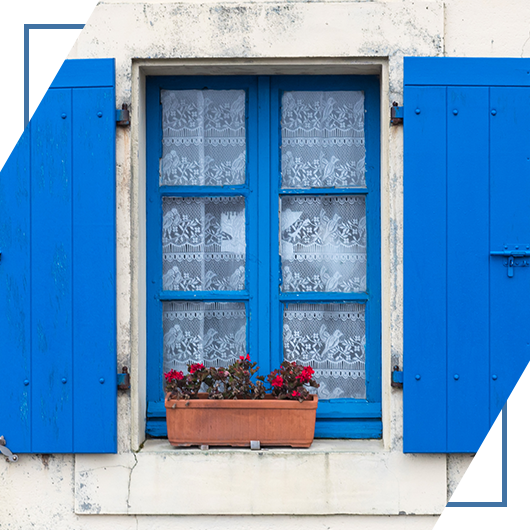 How To Choose Window Shutters
Decide on style
Decide on divider rails
Decide on mounting options
Decide on louver size
Decide on tilting options
Decide on material
Decide on color
Buying Shutters
Most of us don't think about the amazing job our shutters do every day, from letting the sun in so we can see to keeping the sun out so our home stays cooler. Exterior shutters can be one of the first things visitors (and potential home buyers) notice about your home. Interior shutters can cast your home in a certain ambiance that provokes calmness and peace.
Shutters and More has been serving the greater Los Angeles area with custom shutters, both interior and exterior, for over fifty years. Suffice it to say, we know a thing or two about beautiful, classic shutters! All of our shutters are custom made to fit your windows exactly. We measure every window and then we check it twice to make sure your shutters are never off.
Our superior customer service and hands-on approach has won us a legion of clients, including those in the entertainment business. Our name is synonymous with style and grace, and when you partner with us for your interior or exterior shutters, you can rest assured that your shutters will be the icing on the cake for your home. Below, we'll take a brief look at the history of shutters and offer advice on how you can choose the right custom shutters for your Los Angeles home. Contact us today for your free shutter quote!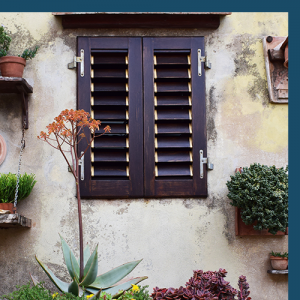 A BRIEF HISTORY OF SHUTTERS
Traditionally, wood has been the shutter material of choice for centuries for one obvious reason — it was readily available. Furthermore, wood was easy to make into beautiful, ornate shutters if the homeowner so desired, and they were easy to maintain.
The exact origin of shutters remains unknown, but it's safe to say that shutters have been around since there have been holes in walls. Before the advent of windows made of glass, shutters took the place of windows, keeping out the elements and keeping in the heat. Shutters also kept out intruders and other marauders, such as raccoons and squirrels looking for food. Shutters are commonly attributed as first being used by the ancient Greeks and were made out of marble. Eventually, Shutters and More in Los Angeles notes that wood became the material of choice and movable louver shutters became popular.
Historically, shutters were desired for two reasons:
To let in light.
To let in air.
Light from other sources, such as candles and eventually oil, was expensive so natural light was necessary in order to function in the home. Houses, like today, could become stuffy, and with the lack of people showering, smelly as well. Air and ventilation were necessary in order to not be overwhelmed by the smells.
Louver shutters (shutters with angled slats or fixed strips that hang at regular intervals) became popular in order to keep the sun at bay and still let in precious light and to allow for ventilation and privacy. They also easily shed rainwater.

Still, solid shutters were the norm throughout medieval times as they were cheaper than louver shutters. Glass windows became available in Elizabethan times, but due to their expense, they were reserved for the upper classes. Shutters shifted to be decorative in the 18th century.
It wasn't until the Victorian period that shutters moved to outdoor use. This was mainly due to the style of houses now in vogue. Previously, stone and brick houses just didn't allow for exterior shutters because of recessed windows. But wooden houses made exterior shutters not only possible, but desirable as well.
Surprisingly, it was the Spanish that brought shutters to the New World, and plantation shutters developed in the South — yep, you guessed it — on plantations as the mansions there used exterior shutters almost exclusively for decorative purposes. Shutters and More in Los Angeles notes that plantation shutters usually had wider louvers that other types of shutters, and they were almost always painted white. In contrast, traditional shutters, often found in the New England states, used narrower louvers.
Shutters and More offers both interior and exterior shutters in all types and styles from plantation shutters to louver shutters and panel shutters. We offer the best custom shutters for all of your Los Angele home's needs. Contact us today to get started!

HOW TO CHOOSE THE PERFECT SHUTTERS
With so many options and materials to choose from, just how do you choose? Shutters and More offers up tips below, and contact us today for your free custom shutter quote!

Consider Style
If you live in a particular style of home, such as Colonial or Victorian, you may want to match at least your exterior shutters to the style of your home. Modern shutters in bold colors probably won't mesh too well, whereas more traditional styles, such as plantation or louver, may look better.
You'll also need to consider if you want full shutters that open as one panel, cafe shutters that only cover half the window that offers a clear view at eye level and lets in more natural light, or double hang shutters that can be opened at the top and the bottom for ultimate light control. Divider rails are another nice touch that you can add to your custom shutters. A divider rail is a stationary strip that allows you to open only one part of your shutters very similar to the double hang shutter but without two separate shutter panels. These are popular as they allow for one part of the interior shutters to be opened while the other part stays closed for added privacy.

Consider Material
There are a variety of materials now that shutters come in for you to choose, from classic wood to composite materials. A popular trend now is metal shutters, especially copper shutters that are being used as accent pieces to the exterior of homes. The advantage of composite material shutters is that they last longer and require less care. They can also be made to look like wood, so you can get two for one out of the deal (looks and longevity) with composite shutters.

Consider Color
For exterior shutters, you definitely want to choose an accent color that matches the color scheme of your home. Classic black or white is always a good choice, especially if you have a traditional style home. However, choosing a vibrant color can be a great way to differentiate your house and add some pizzazz to your cookie-cutter neighborhood. With the subtlety in paint shade, you are able to have almost any color you desire for your indoor or outdoor shutters.

Consider Your Mounting Options
Interior shutters come with two mounting options:
Inside mount. An L frame or hinge is used when you want your interior shutters mounted inside the window opening. This is a great option if you have highly decorative trim or molding around your windows. Here, the interior shutters will attach to the window frame with hinges or to a special shutter frame.
Outside mount. An outside mount is recommended for most windows that don't have any kind of trim to worry about. The reason these are so popular is because these have built-in molding that will give your windows a classic, finished look. There are different frames to choose from here as well. An L frame looks classy and can be decorative or simple, while a Z frame overlaps the corners of your window for the ultimate finished look.
Exterior shutters that are stationary are usually just nailed or screwed in. Hinges are the mounting option of choice with functional exterior shutters. These are attached to the trim or casing around the window and swing outward, resting flush with the casing when closed so as not to stick out. When open, the exterior shutters are held in place usually by a tieback (also known as a shutter dog), a hook, or a catch.

Consider Louver Size
As mentioned before, louver shutters are shutters with angled slats that can be opened or closed to let in the light. Louvers come in many different sizes, including 1 ½ inch all the way up to 4 ½ inch. Larger louvers offer a clearer view of the outside world and are easier to keep clean since there are less of them. Many people love the smaller louver sizes, and these will make smaller windows look bigger. However, the bigger the louver, the more you will be able to see in-between them

Consider Tilt Options
Shutters have two options for tilting: the traditional tilt bar or a modern, hidden tilt. The functionality is the same here; it's just the look that is different. The tilt bar is what allows the louvers of your shutters to move together. The tilt bar is not meant to be used to open and close the shutters, which many people mistakenly do. If used as such, the tilt bar can become damaged, or loose.
Typically, traditional tilt bars tend to go with classic, older homes and decor, while a hidden tilt bar looks best with a modern home that is decorated as such, but that's just in general. A hidden tilt bar is less inviting for children to play with and thus usually lasts longer. A hidden tilt bar is usually positioned on the backside of the panel, near the hinges. You adjust the tilt by adjusting the louvers.

8 Things To Consider When Buying Custom Plantation Window Shutters
The best thing about Shutters and More plantation shutters is the superior quality at a low price. What sets us apart from other shutter stores is the fact that we are the manufacturer, so when you buy from us you are cutting out any middle-man that might jack the price up. Rather, you are getting a factory-direct price without losing any of the value. Visit our facility and window shutters showroom in Los Angeles to see our wood shutter quality, get a free estimate, and compare for yourself.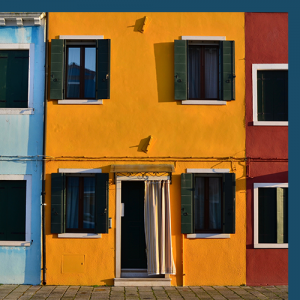 Here are eight considerations for purchasing custom-made, wood plantation shutters:
Buy Wooden Shutters Direct: No middlemen or dealer-retail relationships should be involved. Your shutter company should measure, manufacture, and provide a clean and professional installation without the use of subcontractors or installers paid by the square foot.
Find a Trustworthy Shutter Company: Always purchase plantation shutters from a company that you can trust, especially when it's a custom job. One good way to check the integrity of a shutter company is to see how long the company has been in business. Check the the Contractors State License Board (1-800-321-2752) #594550 for complaint history. Ensure that they have adequate liability, workers compensation, and auto insurance in place and are licensed and bonded for your protection.
Go To a Shutter Store Showroom: Work with a company that has a showroom where all the available shutter configurations are on display. This will allow you to feel and touch the shutters and select colors, louver size, hardware, framing, stile profiles (the upright, vertical wood sections on shutters), divider rails, smooth or sandblasted, beveled glass inserts, sliding shutters, specialty shapes, and many more options.
Get a Free On-Site Estimate: Use a shutter company that offers a free in-home estimate where the estimate and design of your shutters is completed by employees with hands-on factory and manufacturing experience. It's important that the factory fabrication work order is engineered by the same person who saw your windows in your house so that they understand the decor requirements. The shutters should be personalized to fit your windows precisely with no pre-made panels or components.
Window Shutter Warranty: Make sure the shutter company offers a strong warranty. The construction and installation of your shutters and louver doors are warranted to you, the original purchaser, and also fully transferable to the next owner of your home when you move. With Shutters and More, the warranty is as follows: A limited lifetime warranty on installation, workmanship and labor (when installed by Shutters and More, Inc.), and a full ten (10) year warranty on all structural components, which includes all moving parts, staples and louver tension. All paint finishes carry a ten (10) year warranty, (except for re-finishing which carries no warranty) and two (2) years on all stains. Additionally there is a lifetime warranty against bleeding.
Shutter Wood Quality: Ensure that the shutters are 100% solid Basswood — no engineered material, veneered, pressed, or finger joint material that could later show through the finish.
Shutter Paint Quality: Only work with a shutter company that shows their commitment to quality and superior craftsmanship by exclusively using furniture-grade nitrocellulose, non-yellowing lacquer paints with U.V. inhibitors. No water based paints. They should also offer free custom stains and paint color matches, and not pre-selected company selected colors for you to choose from.
Wide Variety of Window Shutter Hardware & Frames: The window shutter company you choose to work with should offer a wide range of hardware and frame selections. For example, at Shutters and More we offer many different hinge finishes, including powder coated to match paint colors, antique brass, bright brass, polished chrome, nickel, oil rubbed bronze, and others. We offer frame molding upgrades at no additional charge. We also exclusively use magnets (white and brown) to keep shutters closed (no button receiver catches).

WHY CHOOSE SHUTTERS AND MORE FOR ALL YOUR SHUTTER NEEDS
Shutters add so many benefits to your home. Interior shutters allow for optimal control of the light that comes into your home. Nowadays, the light is not as necessary as in the past; however, natural light has been shown to improve your mood and make it easier to see by. Shutters are energy savers since by closing them during the heat of the day in the summer, your home will stay cooler, allowing your AC unit to not work as hard and expend as much energy, and by opening your shutters in the winter during the heat of the day, your home will heat up, allowing your heating system to not work as hard, saving energy as well.
Exterior shutters are classic accent pieces that can make your home stand out and will increase curb appeal. You can choose from functional shutters or stationary exterior shutters. The key in choosing exterior shutters is to make sure they are proportionate to the house, or they will just look bad. You definitely don't want your shutters hanging over the edge of your home or office, and you don't want shutters so close together that there is hardly any space. In this instance, it's best to not put exterior shutters on every window, but pick and choose instead for what would be more aesthetically pleasing.
A beautiful home is all about the details. Interior and exterior shutters are often overlooked, but when you have gorgeous, decorative shutters that are not only functional but melt seamlessly into your home, you'll notice the difference.
Shutters and More in Los Angeles is meticulous about the details. All of our shutters are made in the USA using only the highest quality materials. We are the preferred choice for custom shutters for homeowners, builders, architects, designers, and home remodeling companies. Our custom-made interior shutters will add value, class, and style and bring life to a room that previously had been gasping for air. Our mission is to exceed your expectations in beauty, style, and quality. Call us today for a free quote on either interior or exterior custom shutter and installation for your home or office!
Request a quote for interior wood shutters in Los Angeles by signing up today for a free in-home or over-the-phone consultation