Expertly Designed Exterior Window Shutters
As a local, family-owned business since 1966, Shutters and More manufacturers and distributes custom-designed, wooden exterior window shutters for customers in the Los Angeles area and beyond. All of our made-to-order wooden exterior shutters are built with meticulous attention to detail here in Southern California. Contact us today and bring added style and elegance to your home with our custom wooden exterior window shutters.manufacturing and installing the world's finest, hand-crafted wood interior window shutters since 1966. All of our custom Basswood plantation window shutters are proudly designed and manufactured in the USA, and we will come to your house to provide a free in-home estimate and get measurements to fit them perfectly to your interior design and window. Plantation shutters can enhance the value and privacy of your home, and we guarantee a price match with competitors. Learn more about buying shutters, or contact us today to get a free quote or to check out our showroom.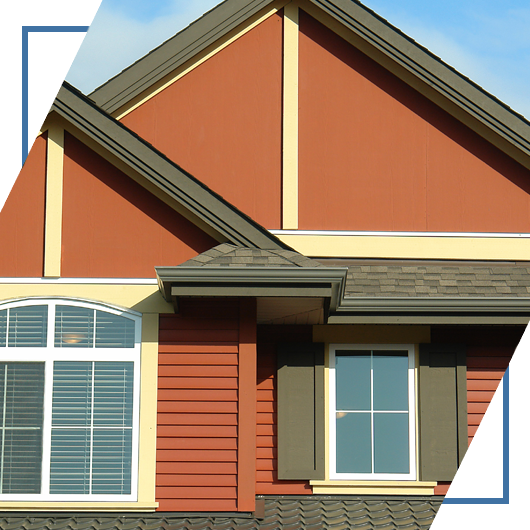 Why Work with Shutters and More in Los Angeles:
Rot-resistant incense cedar or western red cedar wood shutters
Expert craftsmanship and hand sanding
Made-to-order shutter manufacturer with a lifetime warranty
Local shutter store is a family owned and operated since 1966
Price match guarantee with all other shutter stores and manufacturers
Detailed instructions for finishing and installation
Exterior Wooden Window Shutters
Elegant Craftsmanship from Shutters and More
Shutters and More exterior wood window shutters are designed to deliver a lifetime of elegant, maintenance-free products at affordable, low, and competitive prices. Our shutters bring an ideal accent and additional dimension to your home.
Because we are a shutter manufacturer — proudly built in Southern California, U.S.A. — our custom wood shutters offer virtually unlimited possibilities to express your home's unique style, as we will handcraft them to your exact specifications. You are limited only by your imagination. Your taste and how you feel about your home's look guides you in your choice of shutter style.
Our solid wood exterior shutters are made from solid, kiln-dried and rot-resistant incense cedar or western red cedar, which is a very durable wood requiring little-to-no maintenance as its resistant to decay. Other woods used for making shutters, such as pine or poplar, do not enjoy such an advantage. Kiln drying is time-consuming and expensive, but it is important because it reduces the moisture content, therefore, allowing less expansion and contraction, while enhancing durability and acceptance of finishes.
Each shutter panel is hand assembled and individually built on site in our Southern California Facility. While we do not finish or install exterior window shutters ourselves, we sand each one by hand — ensuring a smooth surface ready for finishing — once they are assembled. Once assembled and sanded, we deliver the wood shutters to you regardless of where you live in the United States, ready for proper paint, stain, or primer.
Because we have been around since 1966, we have come across just about every type of custom job or situation, and have a solution for you. Our goal is to make your exterior shutter purchase a positive experience because it is likely to be a once-in-a-lifetime event. Contact us today for an estimate on our exterior window shutters, or visit our showroom in Los Angeles.
Exterior Window Shutter Styles
Ready to choose the perfect exterior window shutter of your dreams? It can be a tough choice, but we will help you through it. Each of our shutter collections offer several versatile shutter styles, delivering a lifetime of elegant, maintenance-free beauty.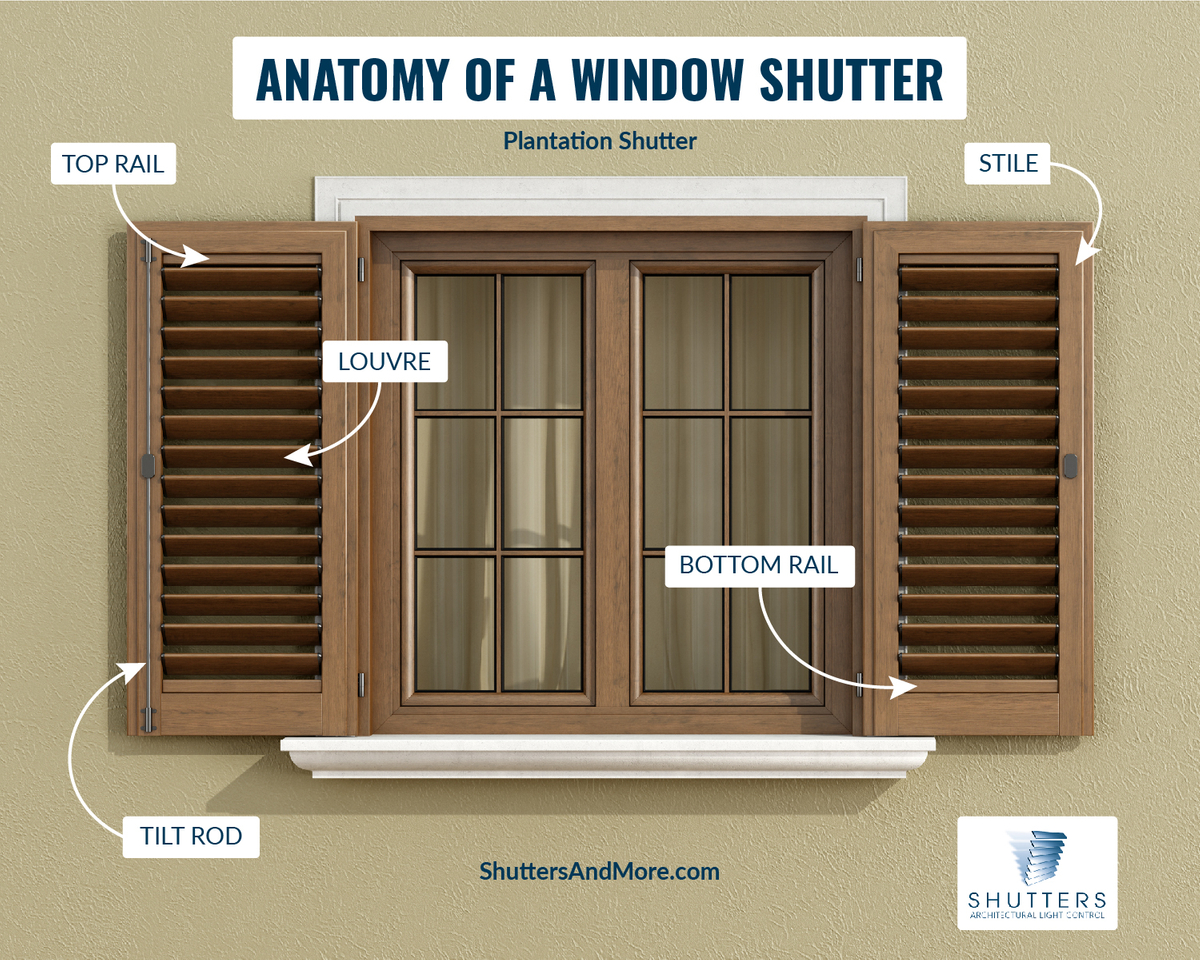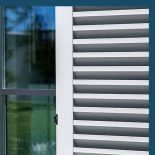 Fixed Louver Exterior Shutter Panels
The fixed louvered panels are one of the most popular exterior shutters because they are universally attractive on most home styles, providing timeless elegance with the crisp lines of louvers. They provide grace and style to this classic and traditional design. These elegant, solid wood, exterior shutters come in a variety of louver widths and panel configurations, but they all provide grace and style to the classic and traditional design of louvers. Learn more about fixed louver exterior shutter panel designs and configurations, or contact us today for a quote.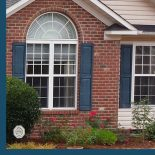 Exterior Raised Panel Window Shutters
The raised panel shutter is very popular as it adds depth and dimension to the exterior of the building. They offer a handsome, classic look for Georgian, Eclectic, and Cottage style homes. They are constructed with a top rail, bottom rail, and two side styles. All stiles will be 2" x 1-1/8". The inside raised panel is beveled on all four sides, which is inserted into a routed channel in the stiles and rails. A divider rail can also be inserted to create multiple raised panels within the shutter. The raised panels for the narrow shutters are made from the same cedar as the stiles and rails, however, wider panels are usually made from MDF, which weathers well, but can only be painted, not stained.
Learn more about raised panel window shutters, contact us with questions, or if you want to order them today, measure your window height and width and let us know whether or not you want a divider rail, as well as whether or not you plan on staining or painting them later.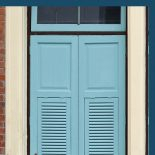 Exterior Combination Panel Shutters
Exterior combination panels have louvers on top and a raised panel below to meet the requirements of architects and homeowners seeking the utmost in taste and unique style. They allow you the full creativity of combining design elements of our raised panel and louver shutters. If you are interested in ordering combination panel shutters for your exterior windows, provide us with your desired width and height along with answering the following questions:
Do you want a divider rail? All divider rails will be centered in the panel. (Special order available upon request.)
Determine what you want in the lower section of the panel: Raised panel or louvers? If louvers, what size louver from the three available sizes will look best? Find the sizes here.
What do you want in the upper section of the panel? Raised panel or louvers? If louvers, what size louver?
Will the panels be painted or stained.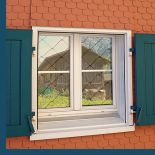 Board and Batten Panel Exterior Shutters
The hearty Board and Batten wood window shutters are traditionally used on barns, but they are a magnificent choice no matter where your house is located. Choose either "open" or "closed" boards, and give your house a hint of rustic elegance. With their bold dimension and solid strength, the board and batten styles are classic standards for French Country, Cottage, and Spanish style homes. They are frequently used on single-story homes, barns, and cottages because they provide a picture-esque country look. These shutters are constructed using wide or narrow plank vertical boards, with horizontal cross members called battens. The vertical boards are positioned side-by-side to create the desired width and can be tightly positioned (closed) or with a 3/8" gap between board (open).
If you are interested in ordering Board and Batten panel shutters, send us your desired height and width, and select your choice of an "open board" or a "closed board" panel design.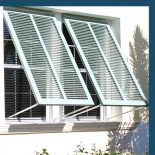 Exterior Bahama or Bermuda Style Panel Shutters
Bahama or Bermuda styled panels were originally designed for the tropics. They are often used for sun screening and moderate storm protection because one shutter panel will usually cover the entire window. These shutters are hinged at the top of the window, open from the bottom, and can be propped open with a support arm for visibility, which in turn blocks out the intense UV sunlight that can damage the integrity of your home's interior while also allowing the soft ambient light and refreshing breezes to pass through. They feature beautiful functionality and authentic Caribbean style with a touch of quaint tropical charm.
If you are interested in ordering Bahama or Bermuda style panel shutters, contact us with the necessary height and width dimensions, as well as the exact size louver you would like out of the three available sizes.
Gallery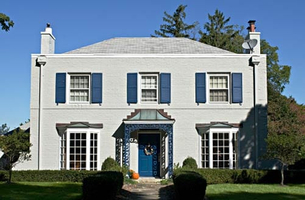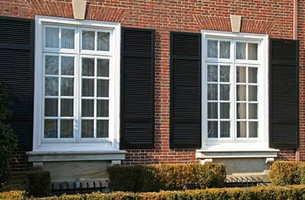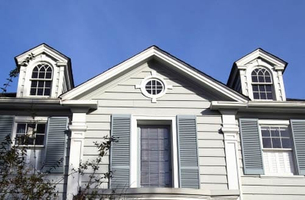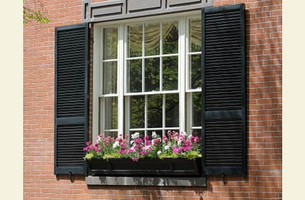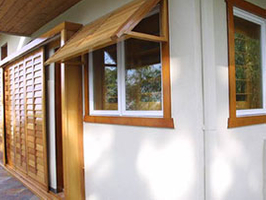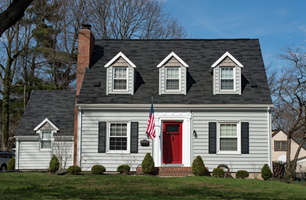 Buying Exterior Window Shutters
How do you go from looking at beautiful shutters online to looking at beautiful shutters on your home? We want to make your experience buying exterior wood shutters as easy as possible for you, so we suggest that you call us at (833) 201-4772 to talk with a shutter professional who will help you find the shutter that fits your house perfectly. It should be decently straight forward to follow the step-by-step instructions we will give you for selecting, ordering, and installing exterior shutters, but if you need help at a later point in time, don't hesitate to call.
Contact our showroom at (833) 201-4772 in Los Angeles, fax your order to 1-818-772-0490, or submit a quote request form.

Shutter Delivery & Installation
Pick up, Delivery, and Shipping: (Nationwide Shipping)
We will call you as soon as your order is ready, and you will have three ways to get your order:
You can pick the shutters up at the Shutters and More showroom in LA, or at our shutter manufacturing facility.
We can deliver the shutters to your home or job site if it's in the greater Los Angeles area.
We can ship the shutters to you.
Shipping Details
We are proud of our shipping history. We can ship our exterior shutters nationwide right to your house. Standard Size panels usually ship within four to five weeks. Standard size orders are shipped by UPS ground or FedEx ground. The packing and shipping charge is 8.5% of the order total cost (minimum $20.00). Oversized panels require a higher than standard shipping charge. Actual delivery times are determined by carriers' schedules, so we cannot guarantee delivery dates; however, when your order ships, we will notify you by email that will include tracking numbers enabling you to track your shutters on line. You can expect our high quality and service in your purchase, and we encourage you to inspect your shipment upon receipt.
Once you receive your shutters, examine your purchase and double check that we have met your expectations. Upon inspection, you will notice an exceptional product, and you will be ready to install your shutters yourself.
Exterior Wood Shutter Installation
The panels should not be attached flush with the exterior wall, since moisture can be trapped behind the panels. The shutters should be screwed or lagged to the exterior surface of the house with rust-proof screws. Pre-drill and countersink all screw holes and attach a rubber washer between the back of the shutter and the building so as to allow the water and ventilation to pass between the shutter and the exterior surface of the house. Fill the screw holes with wood filler or calking, and touch up paint as required.
These simple instructions explain everything you need to know to install your shutters yourself and to enjoy your new shutters without the need to hire someone to help you install them. You are easily turned into an installation professional, but we're still here to help if you need us. To protect your shutters, we will also send you a free exterior shutter cap to protect them from moisture. It is made of bonderized aluminum that can be painted. To attach the cap protector, just add a bead of calk to the top of the panel and squeeze the cap on (no screws or nails).

How to Measure Your Window Shutter Sizes
Whatever style you choose, correctly sizing the shutter to your window is critical! We will build your shutters to your exact specifications, so make sure your measurements are accurate. Whether your shutters will be functional or not, size them as if they would be. Measure the window on the inside edge of the casement, as if the shutters would be closed. This measurement is the "pair width" (equal to twice the width of one shutter). If your shutters will be functional, deduct approximately 1/2″ for clearance. If your shutters will remain open at all times, rounding off to the closest inch is acceptable.
First, measure the window width. Then divide the window measurement in half to determine the approximate width size of each shutter panel. Then measure the height, which is the full height of the window opening.
Most exterior shutters are fixed in place, are non functional, and screwed directly to the sides of the window opening. They will not close, but they will add depth and character to your home's appearance. They can be fully operable and functional with the use of exterior hardware.
Note: For non-functional panels that will be fixed to the wall, an exact size is not necessary, however, with functional panels, the panel size is critical and it may be easier to order the panels slightly larger and trim them on-site for a perfect fit. You can trim one inch from the bottom rail and 7/16" from each side stile. Should you need any guidance, we've provided some helpful ideas and information about custom designed shutters, how to decide on certain specifications of custom wood shutters, and how to install shutters. Our shutter professionals are always available to discuss any questions you may have. The finest, handmade wooden shutters in the world are just a phone call away.

Disclaimer and Limited Warranty: Exterior Wood Shutters
Although we do use wood and other materials that are suited for outdoor use, over time wood might be damaged by the elements, including sun, rain, abrasion, heat, salt, cold, or insects, and might warp, twist, dry, fade, crack, or be subjected to other harm. For that reason, exterior wood shutters are subject to this Disclaimer and Limited Warranty.
Shutters and More, Inc. DBA Los Angeles Shutter Company ("Shutters") warrants, to the original purchaser ("Purchaser") only, that our exterior wood shutters will be free from defective materials and workmanship, when properly maintained and under normal use and service. Purchaser's sole remedy under this warranty is the repair or re-manufacture of the defective product by Shutters. We reserve the right to inspect products prior to any repair or remake. Shutters will not be responsible for any repairs by another party. This warranty does not imply automatic replacement of any product. This warranty and all of Shutters' obligations stated herein shall not apply to: (1) any improper installations, finishing, or maintenance; (2) any progressive deterioration of finishes and materials due to sun, rain, abrasion, heat, salt, cold, insects, and/or exposure to corrosive environments; or (3) damage by misuse, abuse, vandalism, accident, or act of God. Shutters reserves the right to repair or replace any product at our own discretion.
Shutters is not liable for the costs relating to removal of the exterior shutters and the re-installation, or damage to the window frame, glass, or any other portion of the window surroundings. This warranty does not cover installation or removal costs.
There is no express or implied warranty, representation or condition of any kind (including, without limitation, warranty of merchantability or of fitness for use) except for the express warranty stated herein, and no further warranty shall be implied by law. Shutters has no liability, whether in contract, in tort, under any warranty, expressed or implied, in negligence or otherwise, and under no circumstances shall Shutters be held liable for indirect, punitive, special, incidental, or consequential damages or losses that anyone may suffer or incur in connection with the use of exterior wood shutters.
This warranty is the complete, final, and exclusive agreement of the parties with respect to the quality and performance of the exterior wood shutters and with respect to any and all representations related to the exterior wood shutters. No modification or waiver of its terms shall be binding on either party unless approved in writing by both parties. This Disclaimer and Limited Warranty, and the rights and duties of the parties under it, shall be governed by the laws of the State of California.
Request a quote for interior wood shutters in Los Angeles by signing up today for a free in-home or over-the-phone consultation